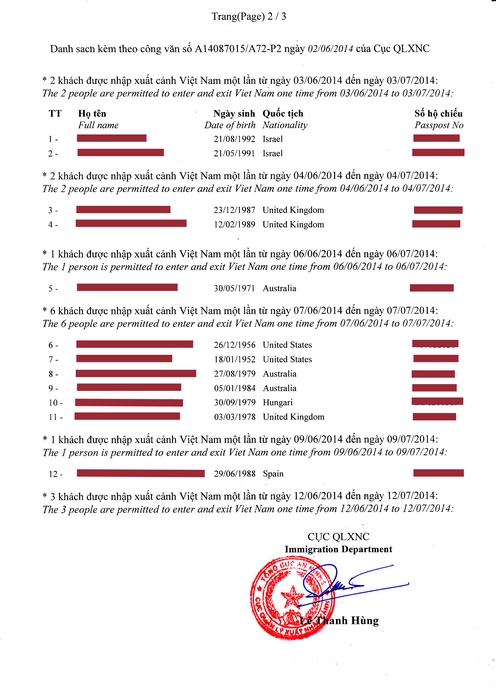 FAQ For Visa on arrival (VOA) in Vietnam
FAQ – Visa on arrival (VOA) in Vietnam is an agents might mention months, it is the number of days that the visa is valid for that should be of concern, for example a one month multiple entry approval letter does not give you a full calendar month and you will be charged for a three month visa if your exit date exceeds the stipulated number of days. Currently the three month multiple entry visa is valid for 87 days.
FAQ For Visa on arrival (VOA) in Vietnam
Please note that between 1 July 2016 and 30 June 2017, holders of British, German, French, Spanish, Belarus and Italian passports will not require a visa for stays of up to 15 days. It is not yet known whether that exemption will extend beyond June 2017.
If you are planning to arrive in Vietnam on an international flight landing at either Ho Chi Minh City( Tan Son Nhat airport), Hanoi ( Noi Bai airport), Da Nang airport or Nha Trang ( (Cam Ranh airport), a legitimate alternative to obtaining a full visa stamp from the Vietnamese Embassy, in your own or another country, is to opt for a very simple and much cheaper, visa on arrival (VOA). Once issued, this visa is exactly the same as a visa issued by any Vietnamese embassy/consulate, with the same limitations and conditions attached to its use.
The VOA paperwork is not a full visa, rather you employ an agent ( before you arrive) in Vietnam to obtain an official letter of approval that you present at the VOA counter when you land. Upon payment of a visa processing fee at the airport ( U.S.$25 for one-month and three-month single entry visas, $50 for one-month and three-month multiple entry visas) you will receive your passport back with an official visa affixed. The fees charged by VOA agents for their service range from $9 upwards, depending on the type of visa and the agent in question. Be aware that three-month multiple entry visas are sometimes subject to restrictions, so before finalizing your plans in respect of entry to and exit from Vietnam it would be prudent to check whether you can obtain a visa for the required dates.
One disadvantage of the VOA system is that the process at the airport can be slow. Saigon airport (Tan Son Nhat international airport) in particular, where things can become chaotic if people do not form an orderly queue. Saigon airport is Vietnam's busiest and handles far more traffic than the other two airports. In the high season, it is not uncommon to have to wait for an hour or two if you are stuck behind a large tour group. In Hanoi and Da Nang, and even in HCMC in the low season and during quiet times of the day, it can take less than 15 minutes to get your visa and pass through immigration - indeed you are likely to arrive at the baggage carousel before your bags do.
How to obtain your letter of approval?
Applying for a VOA letter of approval on-line is very easy and there are many reputable agents .They accept all major credit cards and with some you can pay through PayPal or Onepay.
On the agent's website or by email you will be asked for the following information, please read more here