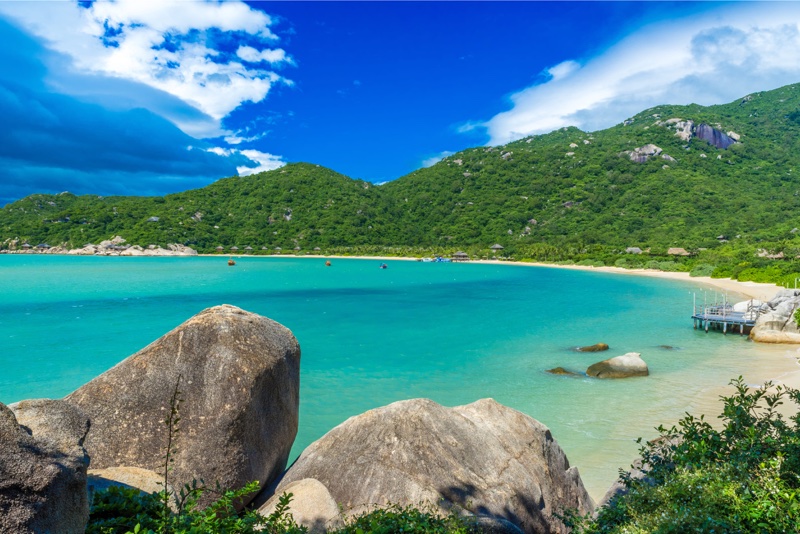 Why Do We Want To Go To Nha Trang Beach?
Why Do We Want To Go To Nha Trang Beach?
The nature of Nha Trang is supplied not only with the crystal-like waters and pristinely white sand of Nha Trang's 6 kilometer beach but also with the many idyllic neighboring islands, which will undoubtedly promise you an exotic get-away from the bustling metropolis. To get a little experience travel as local people to Nha Trang, you have to read this blog right away!
Where is this place?
Nha Trang Beach is one of the top 10 best beaches in Vietnam, both for its peaceful nature and lively tourist vibe. To get to Nha Trang by plane from Hanoi, it takes 1.5 hours. From Ho Chi Minh City, it only takes 35 minutes.
Things you should know before you go
Along the slowly curving stretch of bright white sand is a modern city that is both calm and busy. In the background are tall green mountains. Along with the stunningly clear water and the vast blue sky far in the distance, this is the perfect mix of man-made and natural beauty, making for one of the most stunning settings in the country.
Because of more tourists, the seashore has had many changes made to it in the last few years. There are now well-kept parks, sculpture gardens with interesting and unique pieces of art, and long lines of neatly trimmed trees that you don't see anywhere else along the shore. Instead of going to the beach, these parks and gardens are great places to go for a long romantic walk.
Ways to get there
Getting to Nha Trang from big cities like Hanoi and Ho Chi Minh City is pretty easy because Nha Trang is a famous tourist spot for people from all over the world. There are three main ways for tourists to get there: by plane, public train, or private tourist bus.
By rail
Even though the train takes a long time, the view from the window is beautiful. If you choose to travel by road, you can see the wonderful and varied scenery of the country as you ride from province to province on a train. From Hanoi, the train ride takes about 23 hours, and from Ho Chi Minh City, it takes about 8 hours.
>>Read more: Top 5 Best Train Brands in Vietnam
On the bus
Take the bus, which is another choice. Even when you're taking the bus, you can still enjoy the scenery. It's usually the least expensive choice, but some people think it's not as safe as the train. So, it's important to travel with a company that people know and trust such as Phuong Trang Futa Bus, one of the top 5 best bus brands in Vietnam.
>>Read more: Car For Rent In Nha Trang - Car Rental Nha Trang Tour 4 Days
By air
People who are on a tight schedule or just like how convenient flying services are usually choose to fly. Traveling by plane costs more overall, but the exact cost can change based on the airline.
From US$45, Vietnam Airlines will take you from Cam Ranh International Airport in Nha Trang to Ho Chi Minh City. From US$42 for the route between Nha Trang and Ha Noi. If you need to save money and time, you might want to look into low-cost airlines like Vietjet Air.
>>Read more: Taxi Nha Trang Airport Transfers To Hotel
When is the best time to go?
During the dry season, which lasts from February to early October, you can visit Nha Trang whenever you want. The temperature in Nha Trang is usually cool and pleasant because of all the water around the city. When it's dry, the temperature stays between 25 and 17 Celsius. The two hottest months of the year are July and August, when it can get as hot as 40 to 42 Celsius during the day.
You should only stay away during the rainy season, when it often rains a lot, storms get really violent, and there is a chance that a typhoon will destroy the area. People who plan to visit Nha Trang at this time of the year should definitely check the local weather prediction to make sure they have the right plans.
You will see the clear blue water that is shown in the brochure as long as you don't go between October and the end of January. But many guests who aren't from tropical countries find it too hot in the summer, especially in July and August. Still, these are the best months for people who like photography, ecotourism, beach tourism, and water sports.
In addition, if you are planning a trip in July or August, Hon Ba might want to be at the top of your list of places to see because the cool air from the mountain will help you beat the heat. You can go before the end of June if you want to escape the humidity and extreme heat. The sky will still be clear blue, and the water will be as smooth as glass.
Besides that, if you like diving, stay away from late October to early January. That's when it's the worst for diving. No matter what month it is, the best time to go to the beach is still before noon, because the afternoon sea breezes can be uncomfortable for some people. The waves will die down after dark.
Things to do at the beach in Nha Trang
The Amusement Park
The Phu Dong water park is right on the beach. But Vinpearl Land, Nha Trang's answer to Disneyland, is without a doubt the craziest entertainment park. The exact name of it is an entertainment center with an amusement park, restaurants, and resorts. The amusement park is what it's famous for, though.
It has rides that will get your heart racing, a world-class water park, the longest over-the-sea cable car in the world, and Southeast Asia's largest wave pool. You can get Vinpearl Land tickets from most hotels, but you can also buy them on your own.
Snorkeling and Diving
Nha Trang is Vietnam's best place for water sports, especially diving. If the weather and season are right, you can see up to 30 meters into the water.
Inside the area, there are many dive shops and dive spots to pick from. For people of all levels of experience, many of the dive shops also offer lessons. Even though there aren't any shipwrecks to see, there are beautiful underwater caves to explore, a wide range of soft and hard corals, and a pretty school of small reef fish.
>>Read more: Top 10 Best Things Must-Do Activities in Nha Trang, Vietnam
Cruises on boats
As we already said, Nha Trang is blessed with beautiful scenery and more than 70 islands. Some of these islands are like portals to heaven because they haven't been changed in any way.
So, going on a boat trip that goes from island to island should be at the top of the list. A lot of group tours include trips to the most well-known islands, like Hon Tre, Hon Mieu, and Hon Lao. These islands are definitely worth seeing.
Ride in a hot air balloon
There used to be hot-air balloon rides on Hon Tam Island, but they were moved to a new center near Pham Van Dong Street. Hot air balloon rides are thought to be safe because they come with a standard safety net and bars. You can relax and enjoy the great view of the city and the beautiful blue bay from 150 meters above.
Does this blog answer the question "Why do we want to go to Nha Trang Beach?"? Vietnam Budget Carrental hopes that you are going to have the most comfortable experience here.