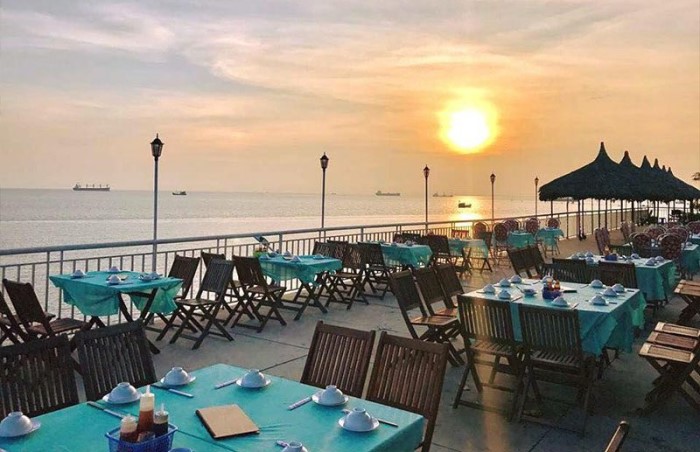 Top 10 Best Seafood Restaurants in Mui Ne, Vietnam
Top 10 Best Seafood Restaurants in Mui Ne, Vietnam
What are the best seafood restaurants for you if you travel to Mui Ne, Vietnam? Let me show you the best experience with all the local dishes through a very comprehensive article about the Top 10 Best Seafood Restaurants in Mui Ne, Vietnam.
1. MOT NANG Seafood Restaurant, Seaside
Image by Vietnam Budget Car rental
When it comes to delicious seafood restaurants in Phan Thiet, you can't miss Nha Hang Mot Nang. This is one of the top 10 Muine seafood restaurants in Phan Thiet, with a prime location. The restaurant is situated right on the beach, making it an ideal romantic sunset viewing spot for couples. The restaurant boasts a breezy space with a classic and luxurious wooden interior.
In terms of food, the restaurant has an extremely diverse menu with many types of fresh and tasty seafood. All the seafood at this restaurant is caught early in the morning and prepared on the same day, so it maintains perfect freshness and sweetness. Some signature dishes you should try when visiting include: raw oysters, baked lobster with cheese, scallops grilled with scallions, seafood spring rolls, etc.
2. Vista Restaurant
Image by Vietnam Budget Car rental
If you want to experience a luxurious, high-class restaurant in Phan Thiet, Vista Restaurant at The Cliff Resort is an excellent recommendation. Located within the Cliff Resort complex, perched on a gently sloping cliffside with a breathtaking panoramic view of the blue ocean, it is the most luxurious and classy venue in Binh Thuan.
Vista Restaurant offers guests unique culinary experiences. Binh Thuan offers diverse dishes, from international and Vietnamese to signature local seafood specialties.
Vista Restaurant is a top 10 luxury seafood restaurant in Muine where you have the chance to enjoy all Muine fresh seafood as your supper.
Here, you can enjoy fresh and tasty seafood from Phan Thiet waters. Under the skillful hands of professional chefs, the dishes are artfully transformed. Aiming to bring customers the most satisfying dining experiences.
3. Lacheln Restaurant
Image by Vietnam Budget Car rental
Lang Chai Quan is a local seafood restaurant in Muine that is highly recommended by many locals when visitors want to find a place to enjoy delicious seafood. The restaurant has a spacious area with views overlooking the deep blue ocean.
There are diverse dishes mainly prepared from various fish, shrimp, crab, etc. The food is cooked in a simple, homestyle manner that you'll probably find very familiar. Some favored dishes are caramelized fish, sour fish soup, steamed snails with ginger, etc. Additionally, the restaurant also serves spicy grilled seafood with salt and chili or cheese that is aromatic and rich.
4. Bo Ke Tuan Thao 180
Image by Vietnam Budget Car rental
The most distinctive feature of Tuan Thao Mui Ne Riverside Restaurant is the best local Muine seafood restaurant, which has an extremely refreshing river view. Additionally, the dishes here are all prepared from fresh, live seafood, and customers have the freedom to choose what they like.
The food is elaborately marinated with the essence of Mui Ne cuisine, suitable for most visitors' tastes. At this riverside venue, you should try the grilled seafood dishes, which are considered extremely delicious.
5. Trinh Restaurant
Image by Vietnam Budget Car rental
A joyful atmosphere is what this lovely little restaurant can offer. Trinh Restaurant is conveniently located in a tranquil setting, just a short walk from the famous Full Moon Village resort, Blue Bay Resort, Mui Ne Village resort, and Long Son campgrounds.
Trinh Restaurant is a top seafood restaurant in Muine. It is also famous for lobster fresh seafood and delivery service around Muine.
Here you can enjoy some of Vietnam's most famous traditional dishes, as well as many seafood, vegetarian, and Western options. You can also browse their extensive beverage menu, with hot and cold drinks including fresh juices, smoothies, cocktails, beers, wines, and spirits.
6. Bo Ke, Mr. Lobster
Image by Vietnam Budget Car rental
Mr. Lobster is a delicious seafood restaurant in Phan Thiet that will make you feel like you've stumbled into a deep blue ocean. Because as soon as you step inside, diners can admire the live and quality seafood tanks and pick the best ones for cooking themselves. Mr. Lobster has a fairly spacious area, and you can enjoy the fresh and tasty seafood while gazing at the extremely chill ocean view.
Mr. Lobster seafood restaurant in Muine has a diverse menu with many different types of seafood. But the highlight still has to be the huge and very sweet lobster. Additionally, the restaurant also serves shrimp, crab, fish, or snails grilled with scallions, salt, chili, or cheese, all of which are extremely aromatic and flavorful.
7. Thanh Oanh Quan (BABA)
Image by Vietnam Budget Car rental
When it comes to delicious seafood restaurants in Phan Thiet, visitors cannot miss Thanh Oanh Restaurant on Nguyen Dinh Chieu Street. The restaurant sources seafood from major Phan Thiet seafood warehouses, so it's always fresh, tasty, and reasonably priced.
Customers here are often students, families, or anyone looking for a place that sells good-quality seafood that is delicious and affordable.
8. Bo Ke 888 Restaurant
Image by Vietnam Budget Car rental
When dining at Riverside 888 Seafood Restaurant for dinner, you should try dishes made with the restaurant's shrimp, such as grilled lobster with butter, grilled shrimp skewers, steamed shrimp, etc. The seafood is prepared when it's still fresh, so it always has that signature sweetness. When eaten, it's chewy and aromatic, and dipping it in the fish sauce is irresistibly delicious.
Additionally, the stir-fried snail with chili is also a "signature" dish here. After prying the snail out of its shell, you'll feel the pungent spiciness of the flavor and the irresistible appeal of the dish. When traveling to Mui Ne, you can choose Riverside 888 to sip and chat with friends thanks to its spacious and comfortable ambience.
9. Bo Ke Seafood Market Restaurant
Image by Vietnam Budget Car rental
With the advantage of being along a very beautiful beach, the riverside area has invested in wave breakers, so sightseeing is very interesting. In the evening, guests can enjoy eating while gazing at the romantic ocean.
The strength is fresh, live seafood at reasonable prices and diverse options. Customers can pick the freshest and tastiest seafood themselves, then the staff will advise suitable dishes based on taste preferences and the number of people, and the chef will prepare them. The staff here are extremely quick, friendly, and attentive.
10. Vietnam Home Restaurant
Image by Vietnam Budget Car rental
Located right in the center of Mui Ne, Vietnam Home Restaurant (also known as Que Huong) promises to be an ideal stopover for visitors. It is rated as an affordable Binh Thuan restaurant with many outstanding dishes.
The space has two floors with an open design facing the ocean. The simple yet impressive architecture gives diners a unique impression. Because the materials used are very rustic and intimate, like thatched roofs and straw walls,
Vietnam Home serves guests dishes full of traditional Vietnamese flavors. Additionally, the restaurant also has many seafood highlights, like lobster grilled with garlic butter, braised squid in soy sauce, steamed yellowfin croaker, and jackfish salad.
If you want to enjoy some Western food, the restaurant also has it! The delicious and diverse food is offered at very reasonable prices—not expensive at all.