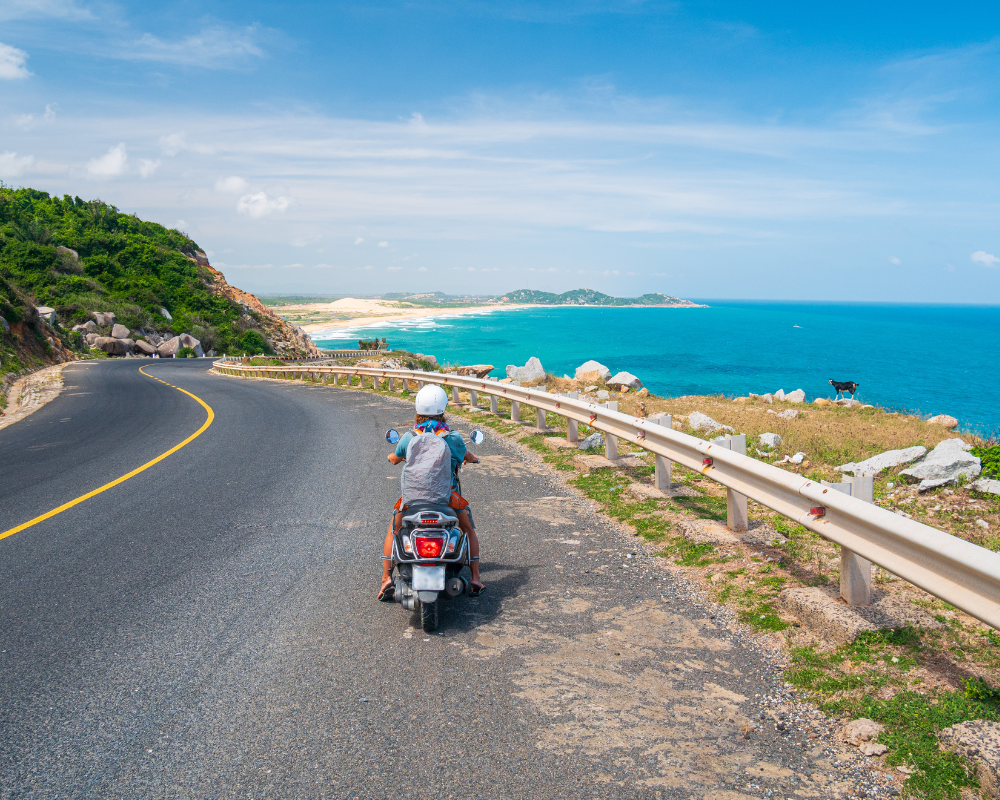 The Best Time To Visit Quy Nhon Vietnam
The Best Time To Visit Quy Nhon Vietnam February to August in around year so thsi time is a dry season period in Quy Nhon Vietnam, read more.
The best time to visit Quy Nhon Vietnam.
Quy Nhon is always an ideal destination that you must definitely visit when traveling to Vietnam.
This is one of the cities possessing the harmonious beauty of 4 magnificent natural terrains: rivers, mountains, sea, and lakes, all of which make up a majestic and vast Quy Nhon, immerse yourself in the fierce and gentle beauty, noisy but quiet of nature here.
If you are planning to travel here, let's explore this place with us. What is the best time to travel to Quy Nhon?
I. Introduction to Quy Nhon
Quy Nhon is the only city of Binh Dinh province, located in the Southeast of the province. The East borders the East Sea, the West borders the Tuy Phuoc district, and the South borders the Cau River (Phu Yen), the North borders Tuy Phuoc and Phu Cat districts.
Quy Nhon is 213 kilometers from Nha Trang International Airport to the north, 300 kilometers from Da Nang Airport, 650 kilometers from Ho Chi Minh City, and 1,065 kilometers from Hanoi. In the past few years, Quy Nhon City has been chosen as a destination for many international tourists.
As a city close to the sea, Quy Nhon has beautiful landscapes that few people know about, known as the miniature "Maldives of the Central".
The famous scenic spots of Binh Dinh province spread throughout the area include: Ghenh Rang, Thi Nai Lagoon - Phuong Mai Peninsula, Quy Hoa Beach (Quy Nhon); Ham Ho (Tay Son); Nui Mot Lake (An Nhon); Nui Ba – Vong Phu Hill (Nui Ba), Hoi Van hot spring (Phu Cat); Tra O Pond (Phu My), coconut groves (Tam Quan - Hoai Nhon)… Each landscape has its charming beauty that you will surely miss when you leave.
2. When should you go to Quy Nhon, which is the most beautiful season?
The best time to visit Quy Nhon, Vietnam, largely depends on your preferences for weather, crowd levels, and activities.
Quy Nhon is a coastal city located in the Binh Dinh province, known for its beautiful beaches, clear waters, and tranquil
atmosphere. Here are the two main seasons to consider:
A. Dry Season (February to August): The dry season is generally considered the best time to visit Quy Nhon. It lasts from
February to August, with the peak tourist season falling between March and July. During this time, you can expect warm and pleasant weather with lower humidity.
The skies are usually clear, and the sea is calm, making it perfect for beach activities, swimming, and outdoor exploration. This is also a great time for water sports like snorkeling and diving.
B. Rainy Season (September to January): The rainy season in Quy Nhon occurs from September to January, with the highest rainfall usually in October and November.
While the weather might be wetter during this time, it's not a complete washout, and you can still enjoy your visit.
The countryside becomes lush and green, and the rainfall is often in short bursts rather than prolonged downpours.
The upside of visiting during the rainy season is that there are fewer tourists, so you can experience a more peaceful and uncrowded Quy Nhon.
2.1. Quy Nhon Tourism January - February
Traveling to Quy Nhon in January, you think you are in the dream city of Da Lat with pleasant cold weather. However, there are some days when the temperature drops below 20 degrees Celsius, the sea is very cold and not suitable for bathing and snorkeling.
The temperature is only about 22-25 degrees Celsius. Moreover, the scenery in January will also satisfy all visitors, even the most fastidious.
Then you will be immersed in the romantic beaches with beautiful fine white sand when you come to the famous places that are checked in many in Quy Nhon such as the road located in the middle of the sea of Hon Kho, Ky Co,... However, you should prepare umbrellas when traveling to Quy Nhon in January because there are sudden drizzles.
2.2 Traveling to Quy Nhon in March
The weather in Quy Nhon in March is quite pleasant, sometimes it rains but it is still sunny enough for you to visit.
At this time, this place is in the dry season and the temperature will increase more than January but not significantly, ranging from 25-32 degrees Celsius.

However, this is still a reasonable time for you to visit. set foot here because the temperature is average and the sun is not too hot.
Besides, the natural scenery in March is impressive with clear blue sea and gentle sunshine. You can go to Trung Luong, Ghenh Rang, and Phuong Mai dunes to enjoy the picture-perfect scenery in every detail.
2.3. Traveling to Quy Nhon in April
If you are choosing the best time to travel to Quy Nhon, which season is beautiful? Then April is a "good candidate" that should not be ignored.
Quy Nhon in April brings a fresh beauty after the rainy season thanks to the pleasant sunshine at the beginning of the season, not as harsh as the following months.
Accordingly, in the month we will not have to worry too much about sudden rains, the weather in April will be somewhat clear and pleasant with clear skies with few clouds.
The average temperature in the month falls between 27 - 33 degrees Celsius, and the difference between day and night temperatures is very low.
Quy Nhon in April is the time when the landscape here is considered the most beautiful, not to mention the pristine Eo Gio and Ky Co beaches.
2.4. Quy Nhon travel from May to September
From May to September, it will not rain so you can come here at any time. Maybe this is also the most beautiful time for Quy Nhon because the sky is blue at this time, the clouds are white, and the water is clear.
Especially in May during the coral and seaweed season at Hon Kho, you will be surprised to see the image of Hon Kho from above.
Eo Gio is also a place you cannot miss, standing from afar you will see majestic mountains, shady trees, airy air, and strong winds blowing on you, bringing with you the typical salty taste of the sea.
Note that Quy Nhon's weather is quite hot at this time, sometimes up to 38 degrees Celsius. So you should wear cool clothes, have a jacket, sunglasses, hat, and put on sunscreen, to make the trip complete.
2.5. Traveling to Quy Nhon in October
This is the peak of the rainy season in Quy Nhon City. It will start and last from late September to February next year. Boats and canoes on bad weather days will not be allowed to operate, so you will miss the opportunity to visit 2 of the 3 most popular tourist attractions in Quy Nhon today!
However, if you want to come to Quy Nhon to explore the cultural beauties, and ancient architecture, or travel to Quy Nhon.
You will not be able to travel. If you have a spiritual calendar, you can come to Quy Nhon at any time of the year. A little light rain in Quy Nhon will make your trip more memorable and impressive.
Read more: Top 25 things must do Quy Nhon in 2024
In the rainy season, if you can't go to the island, you still have many attractions around the city for you to visit with friends and family!
2.6. Quy Nhon travel in November, December
Same as above, in November or December. Quy Nhon is affected by stormy winds, so there will be heavy rain and strong waves on the sea.
Causing danger to many tourists to visit. Therefore, you should carefully check the weather before your trip to avoid unexpected cancellations or affecting safety. However, this time Quy Nhon will also have its own beauty, cool and very peaceful, suitable for relaxation.
3. Top 5 most beautiful attractions in Quy Nhon should go in which season?
Quy Nhon has countless tourist attractions in Quy Nhon, Binh Dinh that attract tourists: Beach "Crescent Moon", Eo Gio, Bai Ky Co, Hon Kho, etc. I will share with you a reasonable time for you to come.
3.1 Quy Nhon Beach
The beach is 5km long in the shape of a crescent moon, running from Mui Tan to Ghenh Rang, wild with soft yellow sand and crashing waves. The beach is very close to Xuan Dieu seafood street.
You can combine sightseeing in the city with a relaxing swimming experience as well as enjoy fresh seafood right here.
You can go to Quy Nhon Beach from March to September, this time there are no storms, so there are many fun activities here.
3.2

Hon Kho
Hon Kho is located 19km from the city center. Is one of the wild but extremely beautiful islands in Binh Dinh
From about the end of May to the middle of July, it will be the seaweed season on Hon Kho Island.
When the tide recedes, the moss will reveal its characteristic yellow color. In particular, this place also reveals a very unique 500m long sea road for you to visit the beautiful grape seaweed groves.
3.3

Eo Gio
The landscape painting in Eo Gio is a combination of mountains, rocks, and an immense blue sea creating a majestic, but strangely poetic scene.
Each season of Eo Gio has its own beauty, but to have the most favorable travel, the dry season from April to August is still the most beautiful.
3.4

Ky Co
Mother Nature has favored Ky Co, the white sand beach embracing the sea, soft as a curving peach silk embracing the clear blue water.
The number of visitors to Ky Co in the summer months like June and July is very crowded. Therefore, the most ideal time to travel to Quy Nhon is the late spring and early summer.
3.5

Ghenh Rang Tien Sa
Ghenh Rang Tien Sa will attract you with the beauty of the long green pine trees. That color blends with the white of the sandy shore and the blue of the sea, creating an extremely poetic picture of the beach.
The most ideal time to go to Ghenh Rang Quy Nhon is in the sunny season, from about March to September of the year. This is the time when the weather is not too hot and sunny.
3.6

Trung Luong tourist area
This place has a rustic beauty, close to nature. The fresh air and sea view is extremely suitable for organizing cozy and intimate camping.
The best time to visit the Trung Luong picnic area is in spring (from February to April) and autumn (from September to October), when the weather here is quite cool and pleasant.
Quy Nhon City is known as the "Paradise of the Sea and Islands" of Central Vietnam. So as a citizen of Quy Nhon in general and Vietnam in particular, we need to know how to protect the image of the island of "Paradise".
At the same time, building and promoting the image of the homeland to friends on five continents so that Quy Nhon can develop further, becoming a familiar destination for domestic and foreign tourists.
The above article is all useful information about Quy Nhon's travel months that I want to share with you. If everyone is planning to travel to Quy Nhon, they can refer to the information mentioned in the article. Hopefully, this will be a guide to help your trip become the most complete.
II. How to get to Quy Nhon from Nha Trang?
The distance between the two coastal cities of Quy Nhon and Nha Trang is about 214 kilometers. You can have many ways to travel from Nha Trang to Quy Nhon at this distance that is not too far but not too close.
Traveling by motorbike
Choosing to travel by motorbike is suitable for a group of young people who are passionate about travel, have experience in backpacking, have good health, and have time for long trips. Traveling by motorbike, you will see the long beaches along the coast of Vietnam.
Traveling by bus
Traveling by coach saves energy, and you can relax comfortably in the car without worrying about the weather outside.
The bus fare from Nha Trang to Quy Nhon ranges from 150,000 VND to 190,000 VND. Currently, there are many garages serving passengers from these two coastal cities.
Train from Nha Trang to Quy Nhon
Trains will start at Dieu Tri station and end at Nha Trang station. Every day, about 9 trains are traveling at these 2 stations. Ticket prices range from 120,000 to 310,000 VND/ticket depending on the type of seat: hard seat, soft chair, or bed.
Rent a car Nha Trang to Quy Nhon
This is the ideal choice for large groups of members who want to be proactive regarding time. Nha Trang has many attractive tourist attractions. The price list of service cars from Nha Trang to Quy Nhon is as follows:
III. How much time should you spend in Quy Nhon?
Quy Nhon has a beautiful and poetic beauty, gentle and poetic like a young girl in the full moon age. Coming to Quy Nhon, you will be immersed in peace and comfort. So, how long is it reasonable to travel to Quy Nhon?
At least 3 days. In 3 days, you can visit all the attractive and exciting places in Quy Nhon, but when you leave, you will no longer have any regrets.
Read more: Quy Nhon tour 1 day
Things to do in Quy Nhon
Sip coffee and watch Quy Nhon beach
The Surf Bar is on Xuan Dieu Street, next to the "Victory Monument" and opposite Saigon - Quy Nhon Hotel. Although it is an emerging address, this place has quickly become one of the evening entertainment places especially loved by young people in Quy Nhon.
Shopping at Quy Nhon Night Market
Night Market is the next attractive and impressive entertainment area in Quy Nhon that you should take advantage of when coming to Quy Nhon. This place is also known as the "Walking Street" of Quy Nhon.
Rea more: Top
Choose fashion & essentials to bring
Papers
People ID

Driving license for motorbike or car

ATM card

Pen, visiting card (if any), small notebook, used to record contact information in case you lose your things.
Supplies when traveling to the Sea
Bathing suits (2 sets/person)

Sandals, waterproof

Swim goggles, mask - diving tube

The camcorder is waterproof

Wide-brimmed hat

Sunglasses

Sunscreen

Earplugs (if needed while swimming)

Float, pump
Necessary medicine
Digestive medicine

Medicines for colds, sore throats, fever reducers

Anti-cracking lip cream, sunscreen, anti-allergy ... (depending on destination)

Insect repellent cream/applied after insect bites/stings (depending on destination)

Anti-allergy cream

Vitamins
Bandage
Pills/contraceptives

Anti-sickness medicine/plane/train
Read more : Taxi Nha Trang to Quy Nhon