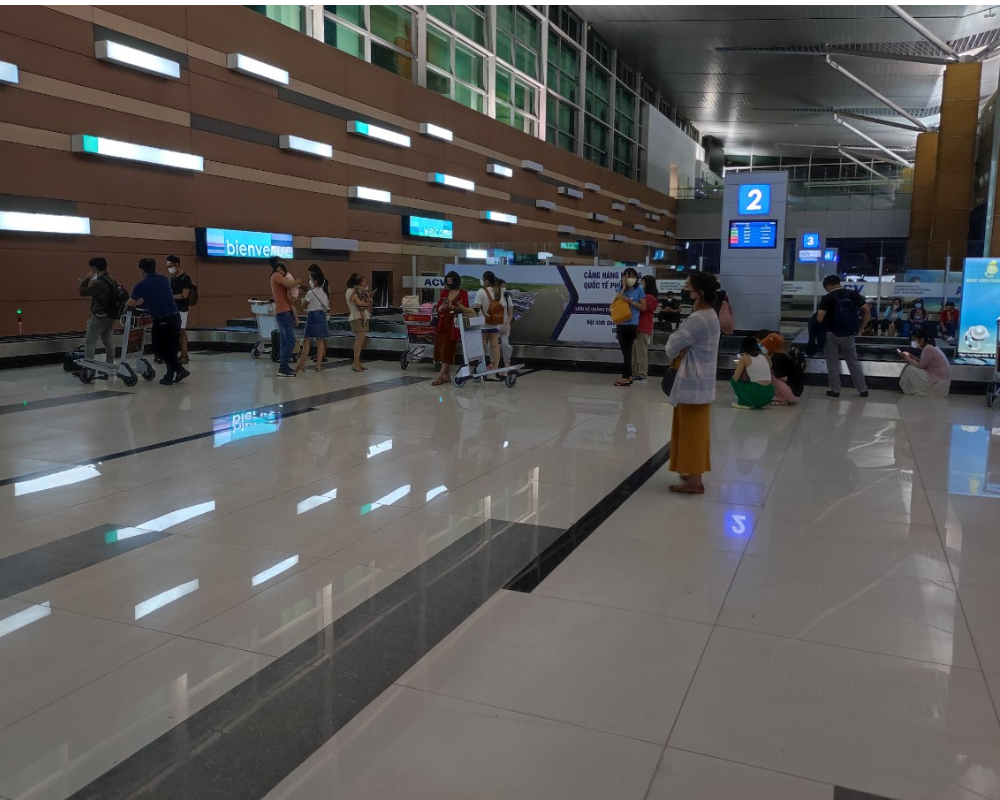 Dalat International Airport: Things To Know Before Traveling To Dalat
Dalat International Airport: Things to Know Before Traveling to Dalat
Lien Khuong Airport, also known as Da Lat Airport in Vietnam, is an easy way to get to the city center, it also has many routes to other big and popular airports such as Ho Chi Minh Airport, Phu Quoc Airport and Cam Ranh Airport.
Want to find the best mix between fun and relaxation? Choose your best time to visit Dalat already. The best way to start your traveling to Da Lat is to land at Da Lat Airport, which is your ticket to this famous place.



Going over the airport in Da Lat.
The town of Lien Nghia is in the province of Lam Dong and is in the district of Duc Trong.
Around 30 kilometers south of Da Lat City is the airport, which is about 14,000 square meters in size. In terms of airport codes, Da Lat Airport is known as DLI and VVDL.
However, this airport only has one runway that is 3,048 meters long and 45 meters wide. This means that big planes like the Boeing 767 and the Airbus A321 can use it. Up to 2 million people can use the airport in Da Lat every year.
>>Read more: Danang International Airport: Things Need To Know Before Traveling
Transfer from Da Lat Airport to the City Center and Back Again (Guided)
When you get to Da Lat Airport, you may be wondering how to get to the city center. Here is a list of the different ways you can send money:
Getting to and from the airport by bus or van
The airport service bus in Da Lat is the cheapest way to get from Lien Khuong Airport to the city center. It has big, clean, and comfortable vans with 29 seats.
But this method of transportation works best for people traveling alone with only a carry-on bag who don't mind staying close to the city center. If your hotel is outside of the city center or in a mountain town, you will need to find another way to get to Da Lat Airport.
You will need to take a cab or walk to your hotel if you are not staying at the Ngoc Phat Da Lat Hotel. That's where the airport service bus stops. It costs 40,000 VND to take a bus from Da Lat Airport to Da Lat City Center one way. You can buy your ticket near the bus stop.
If you want to take the bus, you can only do so from 6 a.m. to 8 p.m., so make sure you plan your trip around those times.
>>Read more: Noi Bai International Airport: All Things You Need To Know Before
A taxi ride from Da Lat International Airport to the center of town
There are a lot of taxis going from Dalat Airport to the center of Da Lat because they are quick and easy to use. You won't have to wait for a cab to leave the stop like you do for the airport bus.
Most taxi rides from Da Lat International Airport to the city center cost between 250,000 and 350,000 Vietnamese dong.
People coming and going from Lien Khuong Airport can use a number of dependable and best taxi brands in Vietnam, such as Vietnam Budget Carrental, Mai Linh Taxi, Taxi Lado, Thang Loi Taxi, and Taxi Da Lat.
How do I get from the city to Da Lat Airport? When a personal car is being used
One of the easiest ways to get to and from Da Lat Airport is by renting a private car. People who are traveling, especially in big groups, love this service because it lets them choose the best car for their trip.
When you get to the airport, your hotel bus driver will be there to greet you. The move has already been paid for, so you don't have to worry about changing currencies or getting charged too much. You can relax and take it easy on the way to your Da Lat hotel when you hire private transportation.
Keep in mind that the price for all taxis from Da Lat Airport to Da Lat is 35 kilometers at most. How much the fare costs will depend on how far away the car is from where you are.
>>Read more: Transfer Ho Chi Minh To Dalat - The Completed Guides
Lien Khuong Airport is where planes take off and land.
It's easier than ever to get to Da Lat by plane, with multiple planes every day and the option to make your trip times. In the table below, you can see which airports are used for Da Lat trips, as well as the companies that run these routes.
| | |
| --- | --- |
| Airlines | Destinations |
| AirAsia | Kuala Lumpur–International |
| Bamboo Airways | Can Tho, Da Nang, Hanoi, Vinh |
| Korean Air | Seoul–Incheon |
| Pacific Airlines | Hanoi, Ho Chi Minh City |
| Qingdao Airlines | Lanzhou |
| Thai Vietjet Air | Bangkok–Suvarnabhumi |
| VietJet Air | Can Tho, Da Nang, Hai Phong, Hanoi, Ho Chi Minh City, Seoul–Incheon, Vinh |
| Vietnam Airlines | Can Tho, Da Nang, Hai Phong, Hanoi, Ho Chi Minh City, Hue, Phu Quoc, Thanh Hoa, Vinh |
Service options at Lien Khuong Airport
Da Lat's (Lien Khuong) airport has a variety of ways to get around.
People who use Da Lat Airport are trying to make their time there as nice and stress-free as possible. The airport has everything you might need for a relaxing trip, like places to eat, shop, and take public transportation.
People from some countries can get a visa at the airport when they arrive if they ask for one online and get permission ahead of time. When people arrive at Da Lat International Airport, they can quickly and easily get their visas handled.
At the information desk in the Da Lat Airport building, you can get help with questions about routes, getting around, and more.
If you need to change money, you can do so at a currency exchange counter inside the airport.
There are a number of automatic teller machines (ATMs) at the airport to make things easier for travelers.
>>Read more: Bidoup Nui Ba National Park Dalat Vietnam
Places for you to consider when arriving in Da Lat
There are a number of places to eat and drink in the airport, such as full-service restaurants, coffee shops, and food bars.
Some of the best places to visit in Da Lat are the Truc Lam Zen Monastery, the Da Lat waterfalls, and the Linh Phuoc Pagoda. Da Lat's restaurants serve the best local food, so going there after a day of sightseeing is a great way to wind down. Da Lat is a great place to go on an exploration and eating spree, which will make your trip unforgettable.
There is a myriad of best tourist attractions in Vietnam, including the lovely city of Da Lat. Phu Quoc, Nha Trang, Ha Long, Hoi An, Da Nang, and many other places are also worth seeing. These places offer beautiful natural scenery, interesting historical sites, and a wide range of tasty foods.
Picking a good place to stay in Vietnam is important if you want to have a relaxing trip there. There are many high-end hotels and resorts in the Vinpearl system, such as Vinpearl Resort & Spa Ha Long, Vinpearl Resort & Golf Nam Hoi An, and Vinpearl Phu Quoc. These are some of the most popular places in the country to stay.
All Vinpearl locations have high-quality facilities, beautiful scenery, and great service to make sure guests have a great time.
The airport in Da Lat is more than just a way to get into the beautiful city; it's also a hub of comfort and ease. The city is easy to get into and out of because its facilities and services are so good. To get to this beautiful part of Vietnam, plan your trip so that you fly into Da Lat Airport and use its useful services.
>>Read more: Vietnam Car Rental | The Best Travel Guide Information 2024